Band Members
On lead guitar and acoustic guitars: Ap Heus
Born in 1959. Working at his music store Ap Snaar.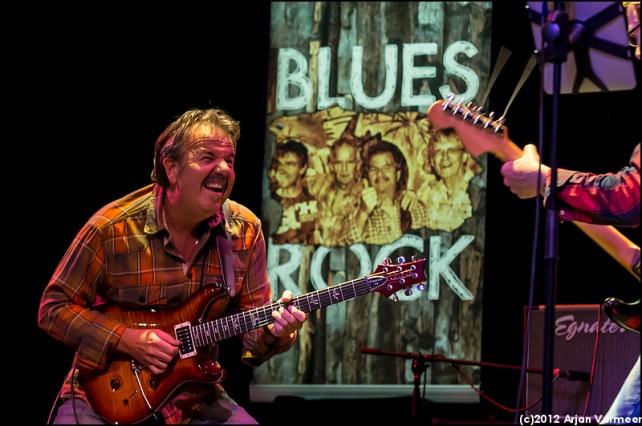 For a Santa Claus gift his father made Ap choose between an air gun and a guitar; still happy he choose the guitar.
At fifteen he started playing in a band for the first time: in Wooden Paul. After that he played in other bands such as Quasar,Vance, Not Fragile. His music skills developed through a number of music genres, such as Symphonic rock, Jazz-rock and Funk. Eventually to come home at the roots of the Blues.
In 2010 Kees (Wooden Paul's former bass player) came in Ap's store for a set of bass guitar strings. Then Ap heard about the plans to play Rory Gallagher songs again and of course he joined in "to pick the blues rock with my old mates."
Now Ap really enjoys the passion for the music of Rory Gallagher and the chemistry of the band.
On bass guitar: Inge Clausing
Born in 1958. Working in a hospital.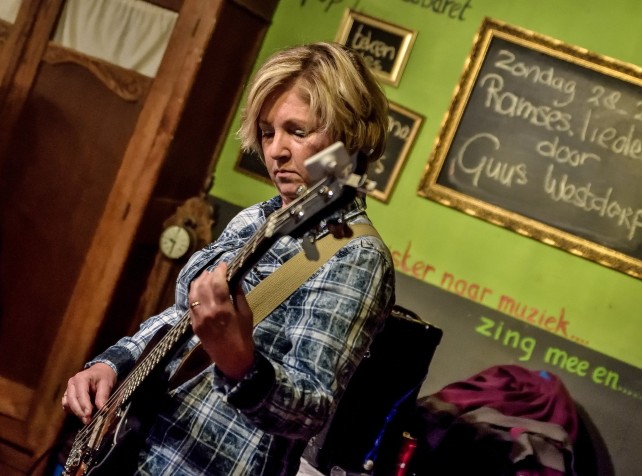 As a child Inge learned to play keyboard.
Later she had drum lessons for about ten years.
Eventually Inge took lessons for the bass gitar and found out that this musical instrument was her true love.
Wooden Paul was looking for a new bass player and she took the plunge.
"For me the passion for the blues and the band's aim to set a good show is fantastic. My wish is to to make music with these guys for a long time!"
On drums: Peet Groenewegen
Born in 1957. Working in greenhouses.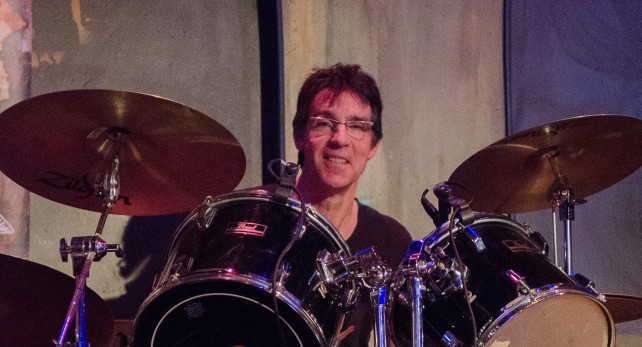 In his youth he was a music lover. Rory Gallagher was his favorite, he even founded a Rory Gallager fan club.
When he was in his early twenties, he shortly played drums in punk band with Aad.
His previous band was called "Who Cares"; in this cover band Peet played about 6 years together with his sister Joke. Then his skills as a drummer were formed, which were further developed during his time with Wooden Paul.
"With Wooden Paul I combine my passion for the music of Rory Gallagher with playing with my old buddies from my youth club: the Flatertheek. I hope that we will enjoy our gigs for a long time."
On vocals, guitars, mandoline: Aad de Vetten.
Born in 1954. Formerly working as a financial project controller.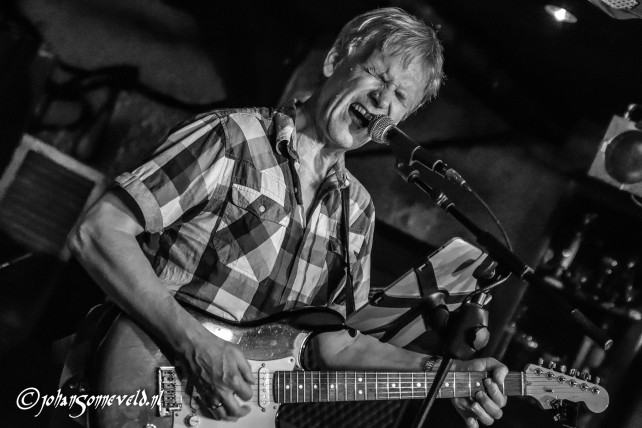 His eldest sisters had some guitar lessons, but soon their guitar was moved to the loft.
Twelve years old he found the guitar on the loft and from that moment it was always in his hands: during his home work or watching TV.
At his seventeenth Wooden Paul was founded by Paul van Holsteijn and the brothers Jan, Kees and Aad. The creation of music together was new dimension and a great experience.
Having listened to blues music before, he was blown off his feet by the music of Rory Gallagher, such as on the album Irish Tour'74. And moreover by the outstanding performance on stage of Gallager.
All of Wooden Paul were inspired and the band started playing Rory's songs.
After the band stopped in 1981, Aad occasionally played some guitar and keyboard and had classic piano lessons.
On 10 January 1995 he and Ap attended Rory's Gallagher gig in Rotterdam, which unfortunately turned out to be Rory's very last.
Since 2010, when Wooden Paul was reunited, Aad is more than happy to sing & play the blues again, with his pals from good old times.